Self-Coaching-Tool-Videos, PDFs, Links and more:
Dear Workshop Participants from ROCHE in ROTKREUZ,
The videos about the four self-coaching-tools we used in our workshop:
It's about a focused look, a real analysis of what you've been through.
You can take a general perspective, or you can get specific. As we did in the workshop, you can apply the magnifying glass to yourself, to your team and also to your general environment.
What is really important? What should be really "burnt into your memory" very deeply?
Often we resolve to definitely not forget important experiences, and yet they leave our conscious memory. This is exactly when the treasure chest helps.
What's going on right now? Which "components" or "topics" that are going through your head make up your leadership task?
With the Iceberg, you get a clear head, you can unload and sift through, and this alone creates a bit more clarity in the confusion of thoughts.
The more diffuse the situation, the more precisely we should know what we want. And what we don't want.
The guard rails are perfect for this. Make sure that you always state exactly what behaviours are inside and outside of your personal guard rails.
And here are two BONUS-tools:
What is the good thing about your problem? What can you learn, how can you gain new experiences now?
With the tool Problem Sunshine, your focus goes from the problem to the possibilities to grow personally with the difficult situation. There are always learning experiences that you can have - if you accept them.
Are we aligned in our work? Or is everyone doing something different?
This short exercise is THE approach when it comes to a quick alignment. Communication afterwards is very important. The "blame game" is definitely a poor choice, you should rather focus on the clear communication of goals.
The PDF templates for the different tools can be downloaded here:

What you should consider during Self-Coaching:
Take some time and ensure peace and quiet. Even in a "real" coaching room, the door would never be open, so that someone could come in at any time. You would not answer your cell phone and you would not read any e-mails in between.
When and how often you use self-coaching-tools is entirely up to you. A weekly jour fix, a daily 5-minute reflection routine or an annual clearing up in your head – everything that suits your needs is just right.
Self-coaching also works with a friend / colleague or in larger groups. It is important that there is always a truly confidential atmosphere, that everyone can rely on 100%.
The tools shown have been tried and tested many times. However, sometimes one method just doesn't produce any good results. Then you can try it again on another occasion, or you can vary it and change it according to your ideas and needs – you are your coach!
I'm a big fan of pen and paper, so I always recommend handwriting and drawing when coaching yourself.
If you feel like it, turn a notebook or a sketchbook into your "self-coaching-companion". I am the proud owner of many of those sketchbooks that contain all of my written down thoughts – and it is a real pleasure (and VERY educational!) to leaf through old notes.
Do not overwhelm yourself and be satisfied with what your thoughts are generating. Sometimes there are great gains in knowledge, sometimes not. Either way, it is always beneficial if you consciously take time for yourself and your thoughts.
Self-coaching – like "real" coaching – can open wounds and bring up issues that create serious crises. Always take good care of yourself and get professional therapeutic help if you cannot rest for a long time, or if other physical or psychosomatic symptoms occur.
My three favourite books on self-reflection and self-leadership:
More videos from my blog about our workshop topic (in German only):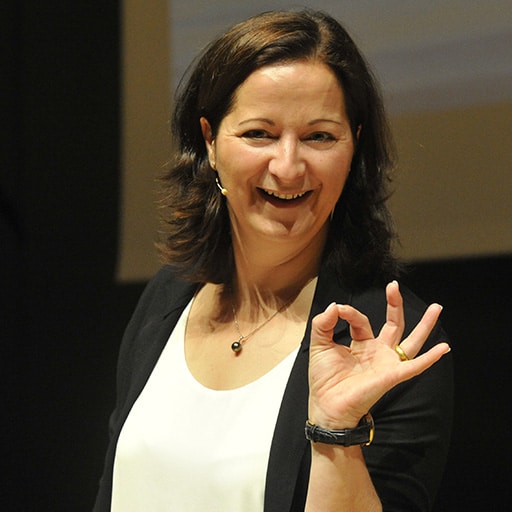 Keynote Speaker – Leadership & Team Coach – Circumnavigator
** business mind meets pirate soul **